we support
We are not indifferent to what's going on around us. That is why, within our capabilities, we are trying to help in all possible ways for many years in social, cultural and environmental terms. By financial, Material, Corporate Ethics, or Personal help by Employees and Leadership. We will be happy to support useful projects from different areas that make sense. We support projects for children, animals and nature conservation.
NOVEMBER 2018
This year's Christmas greeting cards for clients, we chose from the publisher UMÚN, that finds people with disabilities who are deprived of active movement and paint by their mouth or feet. UMÚN provides support, mediates contact with a worldwide association of painters with this disability, organizes exhibitions, and produces these painters in the form of reproductions on many products. (Calendars, mugs, postcards, bags and more)
Thanks to the purchase of postcards we are pleased to support the provisions of scholarships for painters, exhibitions, allowance for personal assistance and many other projects for people with such severe disabilities.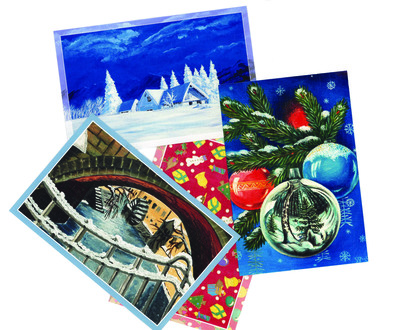 JANUARY 2018
We have approached the Higher Vocational School and the Václav Hollar Secondary School of Arts with an offer for students to create a New Year's Eve greeting cards for our company, because we believe that students should touch real opportunities, not just school assignments. We wanted to get a unique, atypical New Year's Eve greeting card and we might discover new talents that we could start working with. We offered it to school as a volunteer competition with prizes for the top three places.
Unfortunately, we failed to select a winner, but we have recognized that because of the school load and the limited time which students had, the four best ideas deserve at least be awarded. Selected students got a set of needs from us, which they could use for example in drawing lessons.
AUGUST 2017
We contributed to the replacement and installation of the new generation babybox for new born children in the Prague 2 City Hall. We also participated in the opening ceremony. We hope, that it will help to save many deferred babies.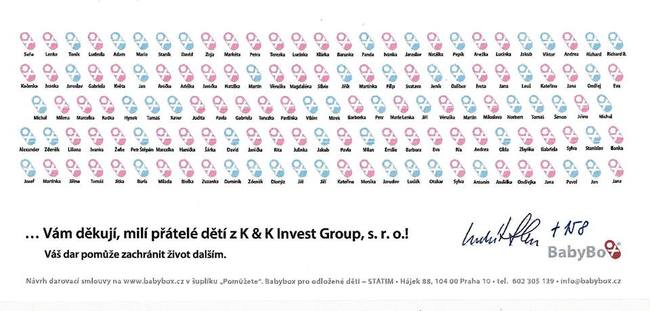 JULY 2017
We regularly contribute to the production and distribution of children's coloring books with an educational element in the IV Publishing House s.r.o. Children learn through this year's edition how to safely move and behave in nature, road traffic, camping or swimming area.